Guide to the top 6 most beautiful beaches in Mexico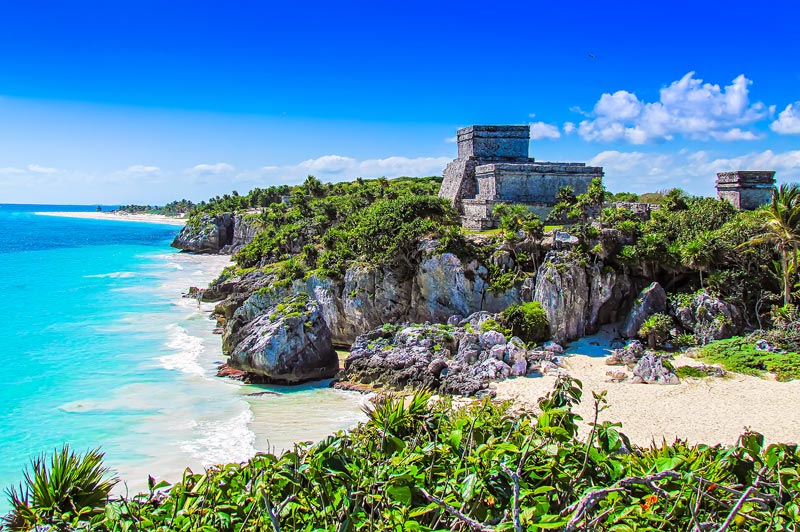 This beautiful country also includes less famous beaches among its waters, which will have the ability to enchant you from the first glance. Ideal destination for those looking for the postcard-like sea and beaches, but also for the charm of past civilizations: a perfect combination of relaxing and cultural holidays. So let's see together a list of the most beautiful beaches in Mexico!
Mayan beach
Tulum
The charm of the picturesque Mayan ruins overlooking the sand. It is considered one of the most beautiful beaches on the American continent, so much so that the New York Times has included it in its top ten of the best beaches. Its coral reef is also second in the world in size, so it is certainly an ideal destination for snorkelers. It is a real paradise characterized by the majestic and fascinating ruins of a Mayan temple that dominate the spectacular panorama from the top of a cliff. The ruins overlook a cove characterized by fine white sand and crystalline waters with a typical Caribbean blue. The whole is surrounded by palm trees and splendid unspoiled nature. Always windy and with a rough sea, the beach, completely devoid of services, is highly appreciated for the extraordinary view it offers, truly unique.
Laguna Bacalar
Quintana Roo
An expanse of water that surrounds the inhabited center of the country, about 40 kilometers from Chetumal. This naturalistic paradise, still in some respects unspoiled, was inhabited by the Maya as early as 200 BC. The Maya called...
URL:
http://travelluxuryvillas.com
--------------------------------