Makatita Tiny House on Wheels by Liberté Tiny Houses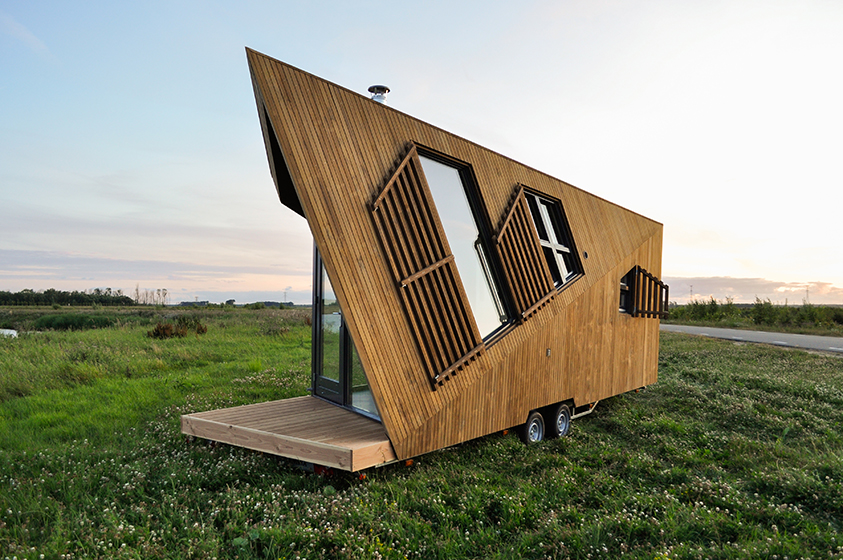 Architecture is known for drawing parallels to many of the world's environmental adornments, with every dwelling and space taking on characteristics of wilderness, wildlife, and even mankind's expressive nature. Liberte Tiny Houses' latest project, the Makatita Tiny Home, draws inspiration from a handful of places, but its heart lies in the foliage-strewn expanses of its owner's favorite forests.

The 182-square-foot living space is a small dwelling that's big on stylish presence. Looking to one of nature's most resilient organic structures for inspiration, its angular, wood-lined exterior and slatted windows are strikingly similar to the skeletal structure of a leaf, mirroring the client's love and adoration or the outdoors. Various aspects of Makatita resemble those of foliage, including interior volumes and storage areas that reminisce creases in a leaf's structure when folded upon itself. Minimalistic seating areas, a rustic heating element/stove, and slatted windows that mimic the diffusion of natural light within the forest, keep the tiny home as cozy as possible, while an open-air deck, folding table, and rooftop seating area help inhabitants to enjoy their surroundings, even during downtime. And meanwhile you can check 15 modern tiny houses
...
URL:
http://www.beautifullife.info/
--------------------------------
-------------------------------------